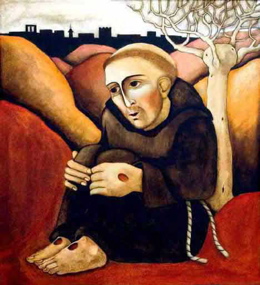 Today's the Feast Day of one of the greatest saints of all time! St. Francis of Assisi! Because the fall gets so busy balancing family time, teaching, talks, and lots o' grading, this will be the first of possibly a few
flashback posts
(nice for new readers, hopefully fun for faithful readers!). I have to step back a wee bit from writing fresh posts. This is a little poem from last year:
You were small once,
Wrapped in medieval mists
playful,
magnetic of mind and heart,
even then.
Little Francis.
You grew through joy and magnanimous heart, casting off riches for rich feasts for friends. And you laughed, at fate, at fear, at the fretting of the too too serious adults.
Francis,
Then you fell.
Your happy world crumbled with the piercing glance of a beggar, poor and broken. Drawn by his magnetic mind and heart, into his deep pool of poverty.
Francis, he captured you.
And the nothingness of his poverty captivated you. The emptiness of air and water and wind filled your hungry heart.
And the purse with holes was full.
And the nakedness warmed you.
And the derision and the mockery of the spoiled was like the praise and spoils of victory for you, little Francis.
Then you again, magnetic of mind and heart, as you always were by nature, were by grace perfected....
And you drew others into deep pools of poverty.
And still we are drawn, because of you little Francis.
Whose eyes looked into the piercing glance of a Beggar, Poor and Broken, Who cast riches aside, of Divinity and Power, of stars and worlds unseen, and stripped, descended, dwelt among us, a Poor Little God on a bed of straw.
Drawn by His magnetic mind and heart, we too feel drawn to see...
Riches in His poverty.