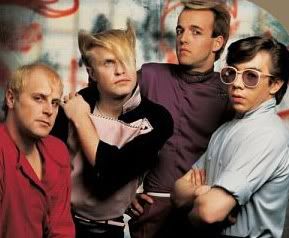 g clunky Walkman. Ponder these lines from the song
Everlasting Love
by Howard J.
He wasn't looking for a pretty face
She wasn't searching for the latest style
He didn't want someone who walked straight off the TV
She needed someone with an interior smile
This is what Pope John Paul II would allude to in his teaching on human sexuality as the "interior gaze" that men and women should have for one another... To see the

person

and not just the

parts

... the soul and personality shining through the human body.
She wasn't looking for a cuddle in the back seat
He wasn't looking for a five minute thrill
She wasn't thinking of tomorrow or of next week
This vacancy he meant to permanently fill
YES! Love is meant to be exclusive, faithful, more than a flash in the pan. Howard, you are the man.
And then he cries out with a longing that I know echoes in my heart, and must in every heart... a longing that betrays the lies of our wounded culture that sees sex as the be all and end all of life here below. No, human love is pointing towards a Love Divine, and "Everlasting Love!" That's why we are so caught up in it in our movies and our music.
I need an everlasting love
I need a friend and a lover divine
An everlasting precious love
Wait for it, wait for it, give it some time
Wow... so today, in the office or in the car, listen in to those "soft rock" stations, try and discern in the lyrics of these lovers this longing for More. We can't deny it... we are made for it. Let's end with another icon of the 80's....
John Cougar Mellencamp
:
A million young poets
Screamin' out their words
Maybe someday
Those words will be heard
By future generations
Ridin' on the highways that we built
Maybe they'll have a better understanding
Maybe they'll have a better understanding
....